Case Study: Pioneer Medical Group experience the benefits of the i3 integrated SpiroConnect spirometer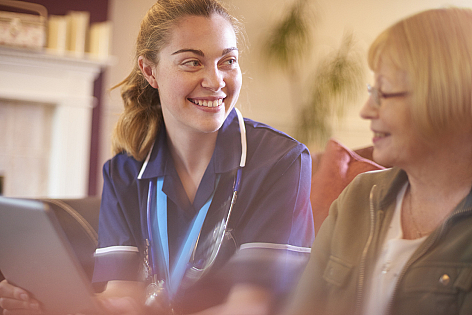 SpiroConnect® PC-based Spirometer
Kerrie Hotchkins - Patient and Administration Manager
"The nurses, who were initially reluctant to change, are now convinced after experiencing the many benefits of the SpiroConnect spirometer and I3 Integration"
Pioneer Medical Group are a multi-site teaching practice providing primary care services in Bristol. They work hard to provide excellent service, which is demonstrated by their excellent patient survey results and outstanding CQC rating.
When the old Microlab spirometer at one of their sites eventually became unrepairable they initially chose another CareFusion device. However, they were unhappy with their choice, Kerrie Hotchkins, Patient and Administration Manager at the group, explains:
"There were a range of devices available with apparent full integration and our natural thought was to choose a SpiroUSB from CareFusion. We trialled the device from our usual supplier but found the software to be rather clunky and the support from their technical department almost non-existent."
Choosing the SpiroConnect spirometer
After being disappointed with their initial choice they contacted Numed Healthcare regarding the SpiroConnect spirometer. However, they were initially reluctant to move away from their current supplier:
"We knew of a new spirometry system from Numed Healthcare but were hesitant as we wanted to standardise across the three surgeries so felt purchasing CareFusion devices would be the best option. However, we contacted Numed and within a few days we had a loan SpiroConnect device up and running to trial."
Installation and on-going support
Compared to the experience with their previous supplier they found the installation process and support they received from Numed's technical support & installation team a breath of fresh air. They also found the way in which they could use SpiroConnect in multiple rooms a real benefit to their multiple practice setup:
"Thanks to their excellent service and support team, who are proficient in every aspect of the device from software installation to the complete technical support of the device, the device was installed quickly. As the software is licensed to the surgery, Numed can load the software remotely onto as many computers as we need."
Saving time and increasing patient safety with I3 integration
The ease of use of SpiroConnect and the included I3 integration, which automatically retrieves a patient's details at the start of a test and files a PDF report and Read codes at the end of the test. This saves the nurses time and ensures that the patient data is always filed to the correct patient. This enhances patient care and eliminates any human error caused by inaccurate data input.
Despite their nursing team being initially reluctant to move away from their existing Carefusion devices they were more than convinced after using the SpiroConnect system for themselves:
"The nurses, who were initially reluctant to change, have seen the many benefits of the SpiroConnect spirometer and I3 Integration. As the system is wireless, it means the patient doesn't need to be connected via a cable to the PC which means they can be sat further away in a more comfortable position. The I3 integration speeds up the test process by automatically inputting patient data from the medical record and inputting data and reports Read coded back into the patient's medical record automatically."
Choosing further integrated diagnostic devices from Numed
After the trial Pioneer Medical Group chose to purchase SpiroConnect and they are now looking at purchasing other integrated ECG and ABPM diagnostic systems using the same I3 integration:
"Overall, our nursing team love the device and the support offered by Numed. I would certainly recommend the SpiroConnect spirometer and of course other I3 integrated diagnostic devices. If you are a surgery looking to update old equipment or purchase new items."