SpiroConnect… the true successor to the MicroLab, MicroLoop and SpiroUSB
25/08/2021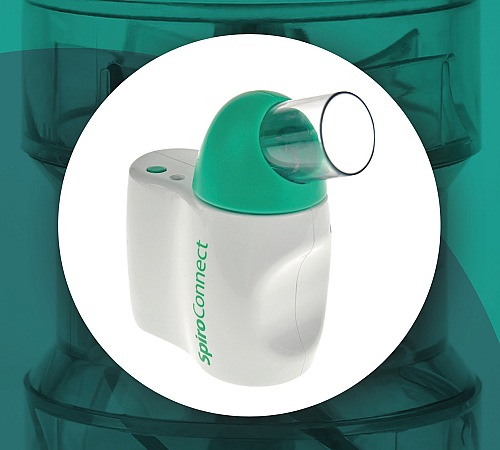 With the recently announced discontinuation of the MicroLab, MicroLoop and SpiroUSB turbine spirometers, are you left wondering what you will do when your old device needs replacing?
Well, you may be interested to know that the designer of these three spirometers and inventor of the original turbine spirometer, Chris Lawson, has since designed a new and improved turbine spirometer. It's called the SpiroConnect spirometer and is supplied in the UK by Numed Healthcare.

SpiroConnect gives you all the benefits of a turbine spirometer that you have relied on over the years, including long-term calibration stability, reliability, and ease of use/maintenance, but with a couple of significant design improvements.
Improved accuracy
SpiroConnect has a unique vertically orientated turbine which is more sensitive to low respiratory flow rates and therefore more accurate than other turbine spirometers on the market with an old style horizontally orientated turbine. You can read more about the unique turbine design here.

Safer for your clinical team
SpiroConnect benefits from Bluetooth connectivity to the computer which means from an infection control perspective it is safer for nurses and technicians to use because they can work in isolation from the patient if necessary. You can find out the reasons for this in this restarting spirometry article.

The SpiroConnect package also gives you the following benefits:
What do respiratory professionals think about SpiroConnect?
"As a Respiratory Nurse Specialist with over 13 years' experience of delivering spirometry training in the Primary Care sector, I have used all makes and models of spirometer, including MicroLab, MicroLoop and SpiroUSB (Micro Medical/Carefusion) and Vitalograph, MIR and NDD devices. I was introduced to the SpiroConnect system around 5 years ago. The design, accuracy and ease of use of SpiroConnect, in addition to after sales support and commitment to product development is the best I've ever experienced. I now recommend SpiroConnect to any practice looking to upgrade their spirometry equipment"
Sophie Toor - Primary Care Respiratory Nurse Specialist and Clinical Director of Respiratory Matters, a leading spirometry training provider - https://respiratorymatters.com
Try SpiroConnect risk free
Numed are so confident that SpiroConnect is the most comprehensive spirometry package available, that they offer a risk-free 30-day money back guarantee if you are not totally satisfied with your purchase.
More Information
For more information about SpiroConnect, please vist our dedicated SpiroConnect page or call us on 0114 2433896, or email: info@numed.co.uk.