New study demonstrates the accuracy and sensitivity of the SpiroConnect spirometer
13/03/2017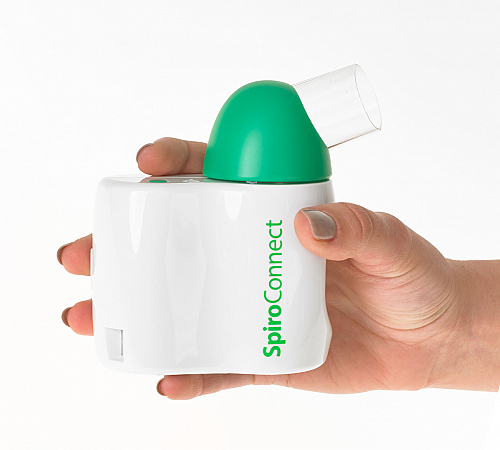 A new clinical study was recently presented at the ARTP (Association for Respiratory Technology and Physiology) conference in January 2017. The study by Dr Brendan Cooper (President at the Academy for Healthcare Science and former President of the ARTP), Dr James Stockley and T Sharley, demonstrates that the SpiroConnect system is as accurate as the equipment used in the Lung Function & Sleep Department at Queen Elizabeth Hospital Birmingham.
There was no clinically significant difference between the results from the SpiroConnect and MGC Ultima system used. Dr Cooper points out that both the FVC and FET are slightly larger in some patients on the SpiroConnect system. Chris Lawson, designer of the SpiroConnect spirometer, has commented "this makes sense as the high sensitivity of the latest vertically orientated turbine in SpiroConnect means that more of the expiration is recorded, resulting in a more accurate FET and, more importantly, FVC".
Chris Lawson invented the original turbine spirometer in 1982 and during his 27 years as Micro Medical's Technical Director, designed the MicroLab, MicroLoop and SpiroUSB spirometers still marketed today. SpiroConnect is his very latest design of spirometer, featuring a new and patented vertically mounted turbine for significantly improved sensitivity to the low flow rates often seen when testing Asthma and COPD patients.
Click the following link to download the full clinical study: SpiroConnect ARTP Poster 2017
SpiroConnect is fully integrated with the leading GP clinical systems (EMIS, SystmOne and Vision) through Numed's Intelligent Integration Interface (I3), automatically filing up to 40 spirometry, Asthma and COPD Read codes and a high quality PDF spirometry report to the patient's medical record at the end of each test. Using SpiroConnect with I3 is safer, faster, easier and more accurate.
If you are interested in purchasing the SpiroConnect system, please contact our Sales team on 0114 2433896, email: sales@numed.co.uk or visit our dedicated SpiroConnect product page.