Clinell Universal Wipes effective against COVID-19 in 30 second contact time
01/12/2020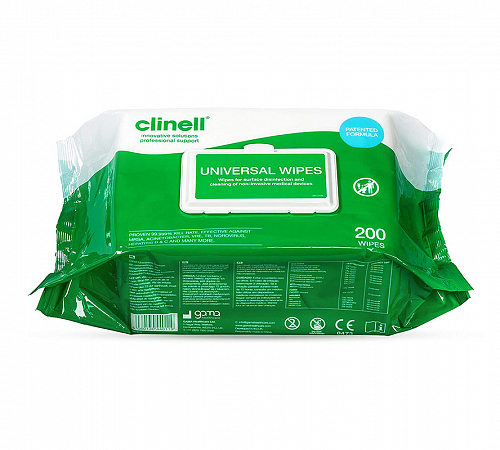 Clinell Universal Wipes have been proven to be effective against the coronavirus that causes COVID-19 in just 30 seconds.
COVID-19 is a contagious disease caused by severe acute respiratory syndrome coronavirus 2 (SARS-CoV-2). The first case was identified in Wuhan in December 2019 and the disease has spread rapidly through many countries over the last year.
The wipes were tested at the Microbac Laboratory in the USA. Microbac is a third-party Biosafety Level 3 Laboratory and is one few independent laboratories in the world accredited to conduct efficacy testing on the COVID-19 virus. It found that the Clinell Universal Wipes were effective against the coronavirus that causes COVID-19 (SARS-CoV-2) in a 30 second contact time.
The testing involved using SARS-CoV-2, the exact strain of human coronavirus that causes COVID-19, and not a surrogate. The wipes were also tested according to the EN14476 test method. This ensured that the testing was both reliable and accurate.
Clinell Universal Wipes were already the UK's most trusted single-step detergent and disinfectant. They are ideal for use on surfaces and non-invasive medical equipment and are proven to kill 99.99% of pathogens after just 10 seconds. They also kill norovirus within a minute and reduce instances of MRSA by 55%.
For more information about our range of Clinell range of products, please visit our dedicated Clinell Infection Control section, or call our sales team on 0114 2433896.