Brexit: How will Britain's decision to leave the EU impact the UK's healthcare system?
11/12/2019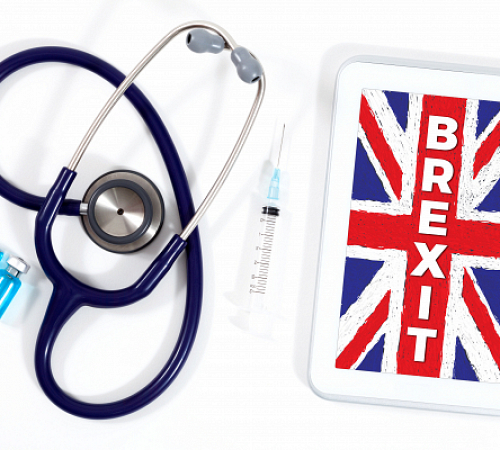 Brexit is still at the centre of the news and public affairs, and it will remain in the headlines until a firm plan has been agreed. The UK could still exit the EU without a deal.
Deal or no deal - for those in primary care, on the front line of the NHS and those using the NHS, what could Brexit mean?
A shortage of nurses
Following Brexit, healthcare professionals who already live in the UK and work for the NHS will be permitted to continue working in the UK. It's likely there will be a two year transition phase after Brexit for EU citizens to move to the UK for work.
The rights they will have are to be confirmed but there could be restrictions on their benefits access and voting permissions.
A recent NHS survey showed that 51% are considering leaving their role and 21% want to quit. This stressful, high-pressured working environment has given rise to recruitment campaigns directed at NHS staff, encouraging them to work in Europe. One of the most recent adverts emerged from a German hospital, targeting nurses who have Brexit concerns and advocating a move to Germany.
According to The Guardian, 'since the referendum, more than 10,000 nurses and midwives from the European Economic Area have left the UK workforce'.
Although legally EU nationals can continue working for the UK healthcare system, powerful recruitment campaigns are set to increase, offering 'better pay, the better social benefits and better working hours', for nurses. It's likely that the 10,000+ we've already seen exit the UK workforce will only increase in total - putting even more pressure on the workforce and a major shortage of nurses in the UK.
The proportion of EU workers in UK healthcare has grown over the years, indicating that this industry will be one of the worst hit with staff shortages.
EU healthcare staff will be permitted to continue working
In a bid to minimise the shortage of health workers, the government has introduced a new legislation; any EU or swiss qualified entering the UK post-Brexit, may have their qualifications recognised.
This stands regardless of whether the UK leaves with or without a deal; 'health workers with professional qualifications from EU and Swiss institutions who are currently registered can continue to practise in the UK as they do now, guaranteeing their ability to work in the NHS.' (UK Government).
If the UK leaves without a deal, employment contracts don't need to be negotiated or amended, and post-brexit, current staff won't need to reapply for their positions.
EU 'Settlement Scheme' to help maintain the NHS workforce
A further government attempt to maintain an EU workforce is the introduction of the EU Settlement Scheme.
For health workers (and any EU citizens working in the UK), their rights and status will remain the same until 30 June 2021, with a Brexit deal. The government is encouraging EU workers to apply for the EU Settlement Scheme, allowing them to continue living and working in the UK after this date.
With a 'settled status', EU workers can remain in the UK for as long as they wish and even apply for British Citizenship, if eligible.
Health Secretary Matt Hancock said: "Every day across the health and social care system, our EU colleagues and friends make a difference to millions of lives, and this vital legislation means they will be able to continue work here, whatever the Brexit outcome.
My message to EU staff is clear – we all want you to feel valued and stay in the UK. Today's announcement builds on our NHS Long Term Plan's commitment to recruit and retain a world-class workforce over the long term.
My priority is to make sure high standards are maintained across the healthcare system and patients continue to receive the high-quality care they deserve – this legislation helps ensure that will continue to be the case."
Drugs shortage
A no deal Brexit could harm Britain's stock of the vital flu vaccine. This specific vaccine cannot be stockpiled, unlike others, and with ferry ports into the UK likely to encounter significant disruption after Brexit, provision plans are in progress.
Drugs company, Sanofi, are preparing many different routes into the UK to avoid as much disruption as possible to the delivery of the flu vaccine. Sanofi's UK MD says, '"If we have to in the end, we will airlift it in. We are eating the cost of that but patients and citizens are our primary concern, so we're quite happy to take that cost and make that planning."
However, the government has announced its plans to help ensure the continuation of medicines and medical supplies into the UK:
Improving trader readiness for new border arrangements

Building up buffer stocks

Procuring extra warehousing space for stockpiled medicines

Securing freight capacity and transport priority for medicines

Strengthening the processes and resources used to deal with shortages
Matt Hancock (Secretary of State for Health and Social Care) gives this message to the NHS and public; my department… 'is putting in place these arrangements to protect medical supplies from any potential disruption if we leave without a deal... so that service providers, patients and members of the public do not have to take action themselves. Local or personal stockpiling remains unnecessary and could cause shortages in other areas, which could put patient care at risk. It is important that patients keep taking their medicines and order their repeat prescriptions as normal'.
Ehic cards may not be valid during travel
Ehic cards cover any emergency care required abroad, along with pre-existing medical conditions; meaning UK citizens can travel on holiday to EU countries knowing they can receive medical care equal to citizens of that country.
In the event of a no deal Brexit, Ehic cards could no longer be valid. As you would when travelling to a non-EU country, it is advised that holiday insurance is purchased to cover healthcare when travelling to the EU.
Currently, the UK only has an arrangement in place with Ireland, Portugal and Spain for post-Brexit. Spain will continue using the Ehic scheme as it currently is, and showing a UK passport in Ireland and Portugal should allow UK citizens to get free healthcare. However, it's unknown how long these plans will last.
Medical research funding impact
Currently, UK medical research benefits from EU funding via initiatives such as Horizon 2020 and the Innovative Medicines Initiative.
However, post-Brexit and after the transition phase, it's likely that the UK will be treated as a third-party collaborator with less input. The revised advice states the UK will be able to participate in Horizon 2020 as a non EU country, participating and leading in the majority of the projects but cannot access mono-beneficiary schemes, some space and security projects and some multi-beneficiary schemes.
Free movement restrictions that the UK could be subject to after Brexit may also have an impact. The majority of the UK's researchers have previously worked abroad and a significant number of academics in the UK are from Europe.
The government are working to mitigate this effect, increasing budgets for UK research. They believe we will be able to come to a mutually beneficial agreement considering the UK play a strong part in worldwide medical research.
The UK government and the NHS are also working alongside clinical trials organisers to ensure research continues as usual for a few months. If you are part of a clinical trial, you can contact the NHS organisation that is hosting your clinical trial with any queries.
New healthcare staff from the commonwealth
With the potential for recruitment uncertainties in the NHS and the loss of many EU workers, the UK government is aiming to looking to the commonwealth to drive healthcare professional recruits. Recently, The Department of Health and Social Care has announced an initiative to 'establish a global nursing partnership with Jamaica, which will offer Jamaican nurses the opportunity to begin their careers in the UK.'.
Minister of State for Health, Stephen Barclay said the following: 'I'm delighted that we're partnering with Jamaica in this scheme, which will build on our existing collaboration with India, and further demonstrates the Government's commitment to forging new international relationships in preparation for the UK to leave the European Union'.
Delays and cancellations in operations
The UK receives a consistent, reliable supply of radioisotopes to the UK, used for a variety of medical applications such as cancer treatment. Radioisotopes cannot be stockpiled and it is vital for patient safety that we can access them in a timely fashion.
In the event of a 'no-deal' Brexit, the UK would be forced to source radioisotopes from elsewhere, removing the guarantee of timely access. In the short term, this could cause delayed and cancelled operations. Longer term, it could also limit the UK's ability to benefit from shared radiation research expertise.
Uncertainties
The referendum that lead to Brexit is highly likely to have far-reaching implications for the UK healthcare system. In fact, the majority of them are currently uncertain, and will depend on the relationship agreed between the UK and EU after the UK leaves.
The most likely factors affected and influenced will be clinical trials and research, funding, NHS workforce and cross-border arrangements for healthcare.