Case Study: MAC 600 ECG - Apache Corporation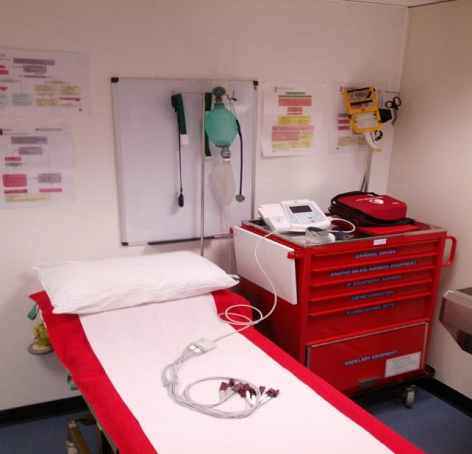 GE MAC 600 Portable Resting ECG Machine
Apache Corporation
"The MAC600 with the gold standard 12SL Algorithm fulfilled our requirements."
Apache is the world's largest independent oil production company. Apache are a forward thinking company who aim to provide the best level of care possible within the confines of remote medicine. We run 7 oil production platforms in the North Sea in the Forties and Beryl fields – these lie off the North East Scottish coast.
Why MAC 600?
Each platform has medical provision comprising of a well-equipped sickbay which is manned by an Offshore Medic. The position of offshore medic is that of a stand-alone medical practitioner with a background as RGN level 1 or experienced Combat medic level 1. We care for our offshore population and run with an average crew in excess of 150 people per platform. Offshore medics have back up in the form of telephone contact with a land based medical service provider and with a team of first aiders offshore. We don't have the comfort of an ambulance 20 minutes away and we undertake to accommodate all conditions from minor ailments to major trauma and medical conditions.
Whilst the age range offshore starts at 18, we work with and care for a predominantly aging offshore population, many of whom have age and lifestyle related medical conditions. We utilise a 12 lead ECG as part of the assessment process, with patients usually suffering an acute presentation of chest pain. As with hospital care, we are aiming to either confirm or exclude an acute cardiac insult – a confirmation of myocardial infarct will lead to an urgent medevac by helicopter as well as use of thrombolytic offshore – whereas confirmation of a sub-acute or non-cardiac occurrence may be either managed offshore or the patient may be able to travel back ashore on a routine flight. We may run a 12 lead ECG only once every few weeks, however when this is needed the stakes are high!
For a number of years we had utilised the Biolog 3000 along with Cardioview software. Whilst this provided reliable service, as time passed we began experiencing software conflicts meaning it was time to update. We reviewed products available which would suit our primary needs – these are a robust unit with an obvious user interface, no unique software requirements and most important of all a data output easily transmitted with diagnostic quality. The MAC600 fulfilled our requirements in that it is essentially plug and play. Once an ECG has been performed, it is saved to an SD memory card in PDF format – this allows it to be easily e-mailed to onshore clinicians for review and easily attached to our electronic medical record system. Additionally, in the unlikely event of our onshore servers being out of action, the PDF can be transmitted from a laptop via Marsiette radio giving us a failsafe method of having our ECG reviewed by onshore clinicians (vital because of our location).
The unit has been rolled out to our team of 17 offshore medics along with our company medical advisor– all have been impressed with the ease of use and quality of the report either on screen or printed out. Additional benefits noticed include the analysis function of the MAC600.