Talbot Medical Centre enhance their waiting room with Envisage
30/04/2019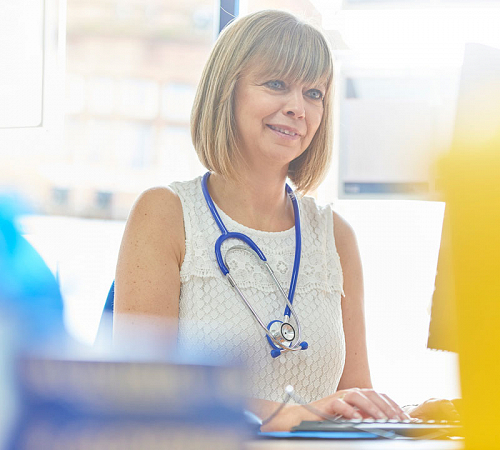 "We are extremely happy with the Envisage system. We love the educational material, our patients are clearly watching it and are learning as they wait."
Talbot Medical Centre is a large unlimited partnership with a long-established history in Bournemouth and special ties within the locality and Bournemouth University. They provide quality family and personal medicine and co-operate with NHS South West and the Bournemouth & Poole PCT to advance Primary Care.
When the practice needed to upgrade their existing patient call system they looked at a range of different systems. They knew they wanted to enhance the way they delivered healthcare messages whilst also decluttering their waiting room. Practice Manager Judith Young explains further:
"We wanted to create a more professional and accommodating waiting area free from the clutter of posters, leaflets and various paper debris. We needed an alternative way of promoting healthcare information, our services and also call patients automatically from our appointments system.We therefore investigated the various options, and after a demonstration of the Envisage system we were convinced."
One of the key reasons the practice chose the Envisage system was because of the flexibility the it provides, including the ability to upload their own content and access to the Envisage Media library with it's large range of content:
"We really like the unique media library, which allows us to easily create playlists from a range of and high quality educational material and National Healthcare Campaigns. We could also upload our own content if we wished but we were also swayed by the fact that their own team behind the media creation could create professional articles for us as well."
The Envisage system has become a real talking point within the practice and patients are now actively enquiring about the information they have seen on the screens. Judith also found the installation process very straightforward, and the ongoing support invaluable in ensuring that any issues were resolved quickly and without disruption to the practice:
"The system was installed and the team were excellent, the screen is in the ideal location and we know already that our patients are acting on the healthcare information they are being shown. For the patients it's been a talking point within consultations, both with the nurses and the doctors. There were a few niggles to start with, to be expected with such complex systems, but they were sorted in a professional and efficient manner with the help of Numed's dedicated technical support team.

Overall, I would say we are extremely happy with the Envisage system. We love the educational material, our patients are clearly watching it and are learning as they wait. I would certainly recommend the system if you are looking to purchase a new system, or upgrade your current waiting room TV system."
For more information about the Envisage waiting room TV and patient call system, please visit our dedicated Envisage website: www.envisagecoda.co.uk, or contact our team on 0114 2433896.