Choosing the right ABPM and support for your new pharmacy hypertension service
08/11/2021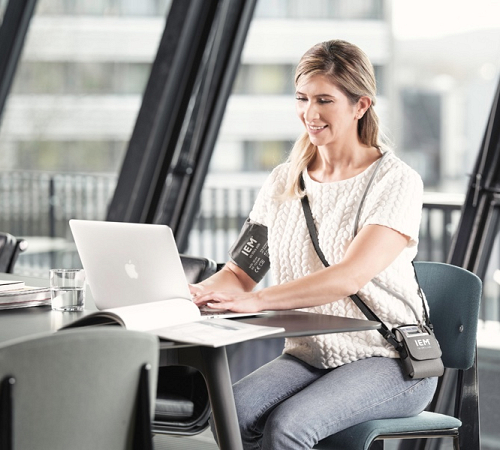 Pharmacies signing up for the NHS Community Pharmacy Hypertension Case-Finding Advanced Service have a lot to consider. A very important consideration is which Ambulatory Blood Pressure Monitor (ABPM) and Clinic Check devices to purchase, but equally as important are the various support services provided by the supplier. This support requirement is clearly highlighted in the Hypertension Service Specification1.
Numed Healthcare has been a leading UK supplier of ABPM monitors for over 20 years. This is not by chance. It is because of the very complete service that we offer. From an equipment and support perspective, Numed have everything covered, allowing pharmacies to focus their efforts on delivering the new hypertension service.
We strongly believe that our Mobil-O-Graph ABPM with comprehensive MediServe support package, offers distinct advantages for pharmacies looking to provide the service:
Rental and outright purchase options
Validated by the BIHS achieving the highest A/A grade for accuracy
Meets the requirements of NICE Hypertension Guidelines
Industry leading 7-year warranty
Easy to use. Comfortable for the patient and very quiet when in operation
Intuitive PC software included for patient set-up and test interpretation
Low-cost, comfortable, and durable cuffs (S, M, L and XL available)
Quick and simple infection control procedure in-line with current guidance
Compatible with pharmacy IT software and hardware (connects via USB port)
Stock available for immediate delivery
Bulk purchase savings are available
'Clinic Check' monitors also supplied
Installation and Training
It is vitally important that your new ABPM is installed and configured correctly and that you are completely confident in its use. Numed Healthcare offer a comprehensive installation and training service to ensure that your pharmacy team can make full use of your new device as quickly and as easily as possible. This includes a remote installation and training session at time of purchase, ongoing refresher training and a range of helpful training videos.
MediServe Support
Keeping your equipment running smoothly is also crucial to the success of your hypertension service. Faulty diagnostic equipment can be a major inconvenience, leading to delays in consultations and even the cancellation of appointments.
Numed Healthcare offer a complete product support package called MediServe, which protects you against the potential cost, inconvenience and downtime of technical issues. This gives you the peace of mind that your service will continue to run smoothly no matter what may happen. Our support and installation & training services include:
Comprehensive product installation and training
Unlimited remote desktop support from a highly skilled support team*
Full maintenance (parts and labour) included*
Loan equipment whilst yours is in for service or repair*
Annual service and calibration to manufacturer's specification*
Items marked * above are included as part of our MediServe support service. For complete transparency, MediServe excludes cover for theft and accidental, malicious or water ingress damage. These specific elements must be covered by insurance put in place by the pharmacy, another important consideration for those wishing to offer the hypertension service to their patients.
Equipment Rental Options
Numed's short-term and long-term rental options allow pharmacies to offer the new service without the upfront cost of purchasing a new device. The rental package includes installation and training, and all the benefits of our comprehensive Mediserve support service (listed above) in one low-cost monthly payment.
Contact Us
To discuss your specific needs in more detail, please contact us using this form or by using one of the methods below:
Call: 0114 2433896
1 https://www.nhsbsa.nhs.uk/pharmacies-gp-practices-and-appliance-contractors/dispensing-contractors-information/nhs-community-pharmacy-hypertension-case-finding-advanced-service