Life-Saving Defibrillators: Should You Have One In The Workplace?
18/09/2019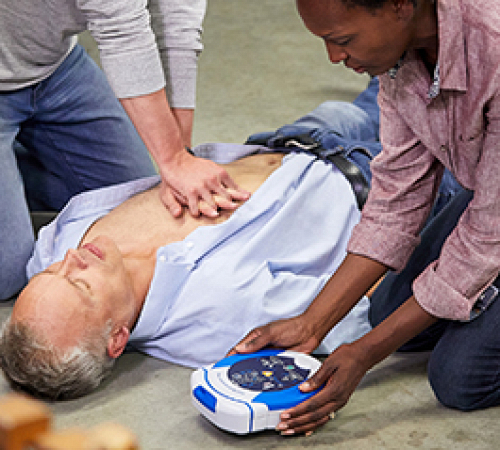 Many companies hesitate to purchase a workplace defibrillator due to their cost. However, with these shocking stats, can you really put a price tag on saving a life?
According to First Aid for Life:
Each year, around 30,000 people are struck by SCA (Sudden Cardiac Arrest) outside of a hospital environment. This can occur anywhere - at school, home, work or public places.

For each minute a victim doesn't receive CPR or defibrillation, this reduces their survival rate by 7-10%.

When a defibrillator is used within 3-5 minutes of the cardiac arrest, survival rates increase significantly from 6% to 74%.
AEDs and effective CPR make a huge impact on survival rates of cardiac arrests. Having a defibrillator is that important and we're here to spread this fundamental message.
What does a defibrillator do?
Defibrillators are a device that can re-establish a person's normal heartbeat during cardiac arrest. A high energy electric shock to their heart is delivered and this is called 'defibrillation'.
AEDs (automated external defibrillators) are external units that automatically diagnose and treat cardiac arrhythmias through this electric shock and restore a normal rhythm. AEDs can be used by everyone - lay responders or members of the public are all able to use them with little or no training.
Why should my company have a defibrillator?
If a sudden cardiac arrest (SCA) occurs in your place of work, defibrillators are key life-saving devices. SCA can hit anyone, so it's important that staff and colleagues have sufficient equipment to help in this medical emergency. Along with CPR training, providing a defibrillator means your business can play a huge part in saving lives.
No training is required
Automatic External Defibrillators are designed to be used by absolutely anyone - with no training needed.
From trained first aiders to paramedics and laypersons, defibrillators are built so that anyone, anywhere, anytime can save a life.
They have audio and visual prompts to effectively guide the user through administering defibrillation shock. They're safe and easy to use and won't give a shock if one isn't needed.
They cost less than £800
Employers have a duty of care over their staff, and their safety at work should be of paramount importance.
Defibrillators come in a range of prices but many are less than £800. A small price to pay for a life-saving piece of equipment.
Appropriate safety precautions for your staff
The UK law does not oblige anyone to have an AED on their premises. However, companies can be liable in negligence for not taking appropriate safety measures.
It's best to consider the risks to your staff and visitors when choosing whether you implement a defibrillator on your premises.
Most importantly... they save lives
Defibrillators provide immediate treatment to someone suffering SCA, without this 90-95% of cardiac arrests would be fatal.
30,000 people are struck by SCA outside of hospital environments, and away from this vital medical care, unfortunately, less than 10% survive. There are two main reasons for this - too many people don't know how to effectively perform CPR and there aren't enough accessible defibrillators.
Businesses can help to change and improve both of these. Offering your staff CPR training and implementing a defibrillator means you and your company will help more people survive SCA.
Show colleagues and the community you care about health and safety
Fitting a defibrillator shows your colleagues and the local community that your business takes health and safety - and your staff's welfare - very seriously.
If you're not the decision maker, you can still spread the word and use this information to build a case to HR or your MD.
A real-life success story
This real life story is just another example highlighting how vitally important it is for private and public institutions to instate this life saving device, protecting the public and helping to avoid even more fatalities.
Simon Walker (53), collapsed suddenly in his dentist waiting room in Mossley, Manchester.
After numerous failed attempts to resuscitate him, the receptionist, Charlotte Anderson-Hughes, suspected he'd suffered a cardiac arrest. She used her initiative, and found the defibrillator located in the dentist surgery.
Just two 'shocks' from the defibrillator were enough to restore Mr Walker's heartbeat.
HeartSine Technologies CEO, Declan O'Mahoney, said, "I am relieved that a defibrillator was close by to save Mr. Walker's life. Had the surgery not been equipped with the device, this could so easily have been a different story, and a much sadder one at that. I commend Ms. Anderson-Hughes for her quick thinking and efforts which have saved a life!"
Mr. Walker has said he will be 'eternally grateful' to Ms. Anderson-Hughes and Dentist Chandra Metha.
We've created a couple of resources you can use to fight the cause in your company.
Why should you install a workplace defibrillator?
Using a defibrillator is easy

Please feel free to share these and print them off - it's important to spread this vital, life-saving message.