Getting the most out of digital signage in healthcare
07/04/2016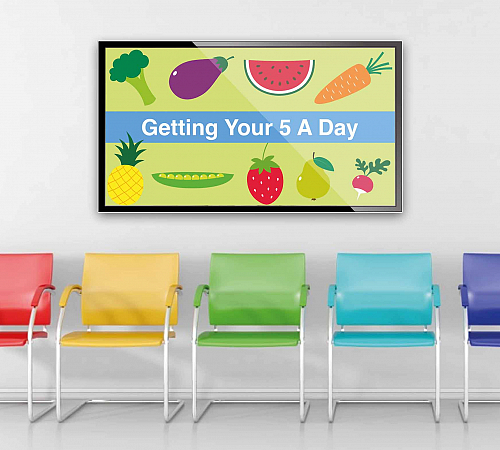 A digital signage system, such as the Envisage health awareness and patient call system, can be a great way of educating patients and informing them of your available practice services whilst they wait to be called to their appointment.
We've created the following five tips to help you get the most out of digital signage at your GP surgery or health centre:
1. Keep your playlists short – The average appointment waiting time in a GP surgery is around 12 mins, so having a playlist that is over an hour long will mean that a lot of your patients won't see all the information you want them to. We recommend keeping your playlists under 20 minutes in length to ensure that patients get to view as much information as possible.
2. Tailor your playlist to your audience – Ensuring that the videos you have playing in your waiting room are relevant and of interest to your patients is essential. Envisage allows you to automatically schedule different playlists at different times, ensuring that the information you share is always relevant.
3. Keep your playlists up to date and topical – Seeing a video about flu clinics in the middle of Summer or information on avoiding hay fever in the middle of Winter can confuse patients and cause them to lose interest. Try to update your playlist at least every quarter to make sure you are promoting the latest health campaigns and information.
4. Share information about your practice services – Make patients aware of your practice' services by promoting them on your waiting room TV. Envisage allows you to create a practice information video, where you can include details about the services you have available, as well as staff information and opening times.
5. Add a scrolling message - Need to share a last minute message with your patients? Easily add a scrolling message to your current playlist to advise patients of early closures or last minute changes to your clinic opening times.
For more information and advice about using the features of Envisage, please visit our dedicated Support section or for more information about Envisage for your GP surgery or health centre please visit: www.envisagecoda.co.uk.